Waterfront Residence in Comox
This slideshow requires JavaScript.
This oceanfront residence was our largest custom project in 2018. Built by fine home builder, Griffith Homes this bespoke residence is both stunning and unique. Linzie Heffernen did an outstanding job with the finishes at this beachside home and the attention to detail by Griffith Homes' craftsmen is impressive. We wired this residence for the latest in energy efficient lighting including:
Dimmable LED down lights in common living areas
Dimmable, under-cabinet LED puck lights in the kitchen and living room built-in shelving
LED strip lighting under the floating ensuite vanity
a Lutron Smart Lighting package to give the homeowners programmable control over lighting from any mobile device
We also installed a number of custom power feeds for an external glass elevator, a hot tub, landscape lighting and a motorized gate. This oceanfront Comox paradise is absolutely stunning and was a beautiful job site to work on. We wish the lovely homeowners many happy years in their new home and thank Griffith Homes for the opportunity to partner with them on this memorable project.
3408 Harbourview – The Ridge, Courtenay
This slideshow requires JavaScript.
Of all the homes I've wired in 30 years, I think this bungalow takes the prize for best layout! We worked closely with Candor Developments Inc. to create a custom lighting plan to best complement this bungalow's brilliant floor plan. While the home is flooded with natural light by day, come evening the new owners will love the many ultra energy efficient LED down lights. It was our pleasure to provide electrical services on this project for Candor Developments and we wish the new homeowners many years of happiness in their beautiful new home!
Fanny Bay Waterfront Renovation
This slideshow requires JavaScript.
We were pleased to work with Mark Toomer Construction Ltd on this stunning waterfront home renovation project in Fanny Bay. We wired a new custom kitchen, a spacious living room and 2 new bedrooms. In addition, we installed plenty of dimmable LED down-lights as well as LED puck lights in the glass cabinets to showcase collectables and decor pieces. As a result, this seaside home is beautifully illuminated but also very energy efficient! Working in this paradise waterfront location for a talented builder was our pleasure.
3399 Harbourview – The Ridge in Courtenay
This slideshow requires JavaScript.
Electrical work is now complete at this beautiful 2 story home with a covered back patio. The team at Candor Developments Inc. builds high quality homes and this house is no exception. With tall ceilings, oversize windows and a brilliant layout, this home feels incredibly spacious and bright. The homeowners are sure to love the many LED down lights we installed providing dimmable energy efficient illumination at the touch of a fingertip!
Comox Kitchen and Bathroom Renovation
Working with this wonderful couple on their renovation was an absolute pleasure. We wired a new jetted tub and an LED lighted mirror from Splashes Kitchen and Bath to create a luxurious ensuite fit for royalty! We also wired new under cabinet LED strip lighting in this totally updated kitchen. All new seed glass light fixtures throughout have transformed this home into a bright and spacious atmosphere sure to provide many years of comfortable living. This new bathroom and kitchen look fantastic and we're so pleased to have been involved in this project!
This slideshow requires JavaScript.
Miracle Beach Carriage/Boat House
We recently completed electrical work at another beautiful project for fine home builder, Griffith Homes. This custom seaside carriage/boat house boasts LED strip lights in the boat house and LED pot lights throughout the carriage house. The incredible views from this home are truly stunning – we certainly enjoyed working on this waterfront build!
This slideshow requires JavaScript.
Quenville Road – North Courtenay
This slideshow requires JavaScript.
This show stopping secondary home by Candor Developments Inc. is nestled in the trees in beautiful Seal Bay. With a stately timber frame exterior and sleek interior finishes, this home truly shines like a jewel in the forest. We installed black-trimmed LED pot lights in the soffits to blend and not distract from the impressive exterior architectural features. Inside, this small home is bathed in energy efficient light thanks to high ceilings and LED pot lights throughout. We also wired power feeds for the well pump and septic system.
4223 Chancellor – The Ridge in Courtenay
Another stunning bungalow by Candor Developments! We wrapped up electrical work here in time for the hand over to the new owners who were happy to move in for Christmas. We are so pleased with how this home looks with the lighting installed! Once again, LED down lights serve to provide dimmable energy efficient lighting and expand the space while LED surface mount fixtures add both feature and task lighting.
3395 Harbourview – The Ridge, Courtenay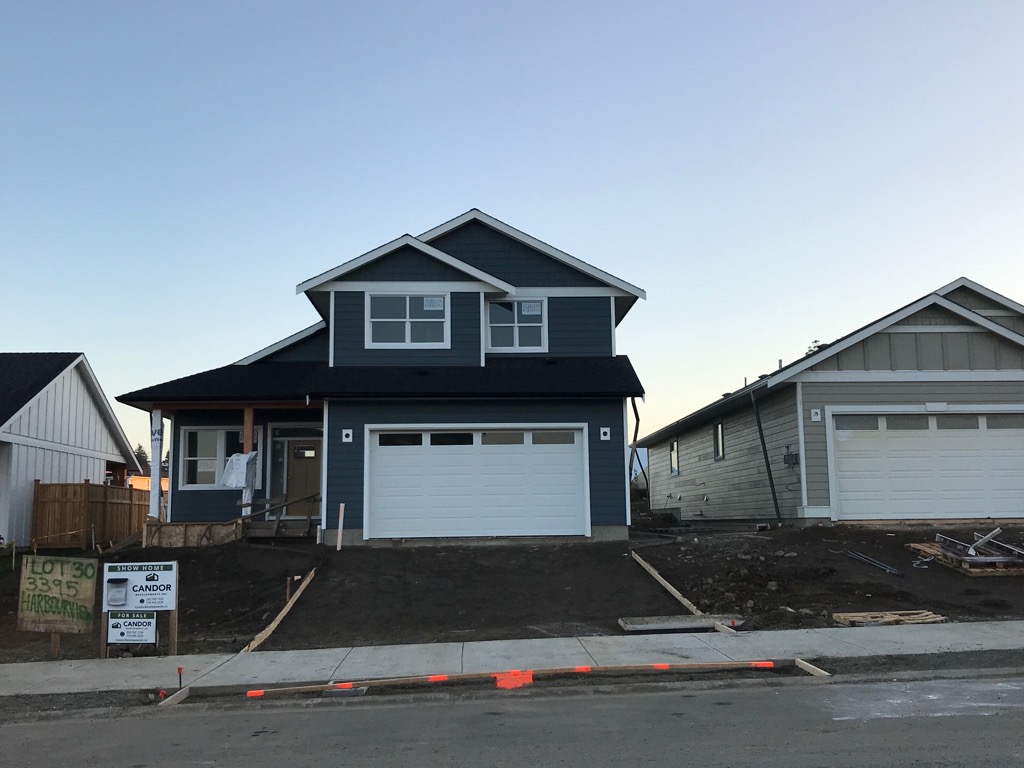 Check out Candor Development's newest show home on Harbourview in The Ridge. This home is flooded with loads of natural light thanks to numerous skylights and lots of LED pot lights. Soaring ceilings and light coloured floors reflect light beautifully which makes this house glow. It's so rewarding to see a home all lit up with fixtures installed. Stay tuned for interior pictures which are coming soon!
968 Sq. Ft. Secondary Residence – North Courtenay
This beautiful small home was designed by Jennifer Charles for a retired couple to age in place. The house was custom built by Mark Toomer Construction Ltd. with fine attention to detail. We installed plenty of low maintenance, energy saving LED down-lights which are an excellent choice for anyone with mobility challenges – they're very long lasting and don't require bulb changes. We also added plenty of extra receptacles per the owners' request as this tech savvy couple never wanted to be short on outlets for their devices and electronics!
This slideshow requires JavaScript.
Foundations Hair Salon & Academy and Hairpins Salon, Downtown Courtenay
It was a pleasure to help Staysea and Megan with the electrical work needed to open their new salon. We were called in on a rush request to install lights and receptacles as well as provide power for their portable styling station. We also installed a 20amp receptacle to power up equipment for Generations Laser then popped down to Hairpins to install some new lighting they had chosen. We're happy to report that we were able to get these vibrantly successful Comox Valley business owners up and running quickly!
This slideshow requires JavaScript.
Courtenay Home Renovation
Our work at this Courtenay home involved deactivating and removing all the old wiring and installing a complete new electrical system to meet modern demands (and the current electrical code). The homeowners will enjoy tremendous energy savings thanks to their new low profile LED down lights which makes this sweet small home feel incredibly bright and spacious! We are so thrilled to be working with such a lovely couple and we're just as excited as them to see this house when it's all done. Stay tuned for more pics as this home completes in 2019!
Church Street Bakery
This slideshow requires JavaScript.
One of our favourite bakeries in the Comox Valley called us to request some lighting repairs. As it was important to work around the bakers' unique early morning schedule (and not be working on lights while customers were lined up at the counter), we happily came in early to complete the work for them. Being flexible to accommodate the needs of local businesses is an important priority for us. We were happy to get the lights working at Church Street Bakery but we have to say, it was challenging to focus with the incredible aroma of delicious bread baking in the wood fire oven!
Tiny Home Wiring
This slideshow requires JavaScript.
We had the unique and interesting pleasure of wiring this tiny home in the Fall of 2017 for Isaac Bale of Swell Carpentry. The tiny home housing trend is growing rapidly and we expect to be involved in many more projects like this in the future. With space being at a premium and light-weight energy efficiency being top priority, wafer thin LED downlights were the perfect choice for this small scale home.
We are proud to be a Better Business Bureau accredited company serving valued clients in Courtenay, Comox and surrounding communities!